The USFL Supplemental Draft was all about teams filling out roster depth for their inaugural season. A number of former XFL players heard their name called in the league's secondary player selection. The New Jersey Generals led the way with half (5) of their selections pulling from the XFL alumni pool. In all 74 former XFL players were drafted via the league's main and supplemental drafts. Let's once again reacquaint ourselves with some of the faces of the XFL 2.0:
New Jersey Generals
Brock Miller (P) – Seattle Dragons
Miller was one of the best punters in the league with the Dragons as he averaged 42.1 yards on his kicks. The Dragons' stagnancy on offense early in the season meant they had to rely on Miller's leg to shift the field and he would often deliver. Obviously, the Generals would prefer not to be having to use Miller's services in the hopes of putting up points, but at age 31 Miller is a seasoned veteran with a shot to contribute for NJ.
Robert Myers (OG) – Seattle Dragons, Team 9
Myers had been all over the place including the NFL, TSL and of course the XFL. He didn't get a chance to play as he spent the first 5 weeks on Team 9 after being waived initially. He was called back up to the Dragons right before the season went under.
Darius Victor (RB) – New York Guardians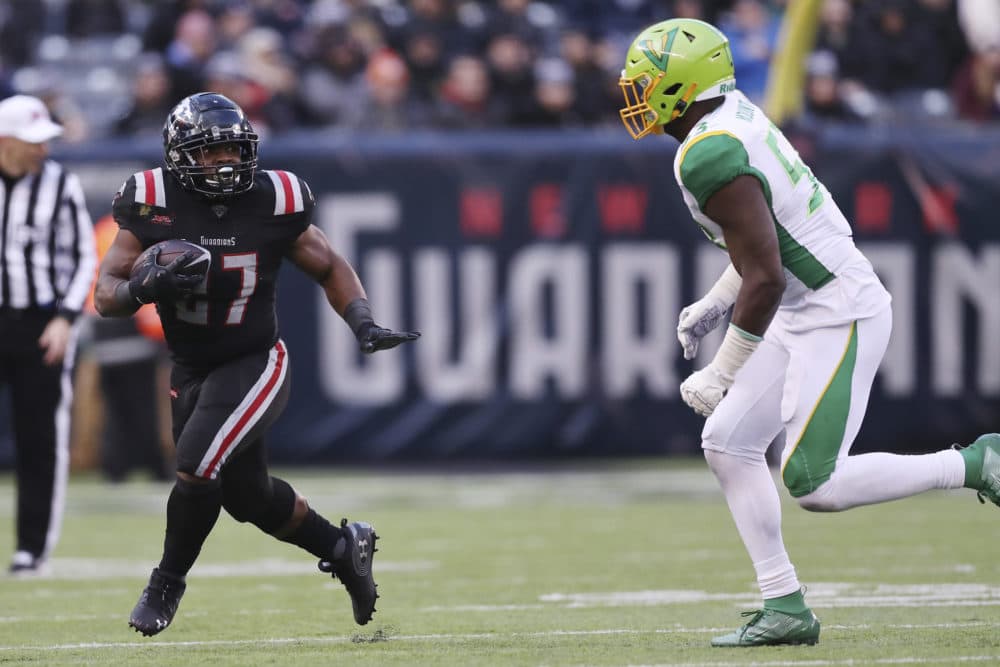 For those who followed the league closely, Darius Victor was one of the most present players for the New York Guardians. Victor represented a powerful run game that picked up as the season went along and Victor got more touches. He ended up with 55 carries for 238 yards (4.33 YPC) and helped NY to a 3-2 record before the season abruptly ended. He joins Mike Weber and fellow  XFLer Trey Williams as he will compete for touches.
Brandon Haskin (OT) – Seattle Dragons, Team 9
Like Myers, Haskin was also sent down to Team 9, but was quickly called up in mid-February 2020 to fill in holes for the Dragons. He and Myers may potentially pair together on the line as a reunited front.
Alonzo Moore (WR) – Seattle Dragons
The Generals had an absolute love affair with drafting former Dragons as Alonzo Moore marks the 5th one taken in the Supplemental Draft alone. Moore received some attention as the Dragons offense morphed. Moore snagged eight catches for 110 yards in the middle of a QB transition for the team. Moore will look to have more targets and a more settled QB situations with the Generals.
Pittsburgh Maulers
Winston Dimel (TE) – Los Angeles Wildcats
Dimel started the season on injured reserve for the Wildcats before being activated a few weeks in. Dimel didn't see the field much before the season ended.
Michigan Panthers
Maea Teuhema (OG) – New York Guardians, Dallas Renegades, Team 9
Teuhema had some of the most movement of any player in the XFL in its short time of existence. He was in camp with Dallas, was waived and joined the Guardians, and was sent down to Team 9 before being called back up on March 9, 2020. He never saw regular season action.
Conor Davis (TE) – St. Louis Battlehawks
Davis was part of the initial wave of XFL players looking to jump to the NFL in 2020. He spent time in training camp with the Jets and then made the Cleveland Browns roster in 2021 but hit injured reserve before being waived last October. Davis has not been much of a pass catcher, but more of a run and pass blocker as he was with the Battlehawks.
Tejan Koroma (C) – Houston Roughnecks
Koroma has bounced from the NFL to the XFL to the TSL and now finds himself in the USFL. He started 2 games at center for the Roughnecks and then spent time on the Jousters' roster in the TSL.
Philadelphia Stars
Lene Maiava (OT) – LA Wildcats
Maiava suited up for four games with the Wildcats. He was also briefly in the AAF where he started one game for the Arizona Hotshots.
Ahmad Dixon (S) – LA Wildcats
Dixon was a busy body making 44 tackles for the Wildcats while starting in four games. He most recently had a stint in the IFL with the Massachusetts Pirates.
Tampa Bay Bandits
Jarron Jones (OT) – NY Guardians
Jones was a right tackle for the Guardians and helped generate a powerful run game in NY. He made his way to the NFL with the Pittsburgh Steelers before be waived last Summer.
Keith Mumphrey (WR) – Dallas Renegades, STL Battlehawks
Mumphrey got some burn in the Battlehawks offense as he hauled in six catches for 102 yards. Fortuitously for him he now gets to reunite with his quarterback Jordan Ta'amu as the two will look to reestablish their chemistry.
Tyler Rausa (K) – DC Defenders
Rausa was able to the most of his opportunities in DC as he went 9 for 12 on field goals including 3/3 from beyond 50 yards. Rausa got some looks in the NFL and now finds himself with a chance to win the job with the Bandits.
Rannell Hall (CB) – Tampa Bay Vipers
Hall only dressed for two games for the Vipers before going on injured reserve on February 24, 2020.
New Orleans Breakers
EJ Bibbs (TE) – NY Guardians
Bibbs made 6 catches for 55 yards as a Guardian. This is his first team since being in the XFL.
Houston Gamblers
Kristjan Sokoli (DE) – DC Defenders
Sokoli was briefly with the Defenders before being waived during training camp. He has also spent time in the TSL and the GFL (German Football League) since then.
Micah Abernathy (DB) – Dallas Renegades
Abernathy managed to start one game at defensive back for the Renegades while dressing for all five games. He made 18 tackles and recorded a sack.

Teo Redding (WR) – NY Guardians
Redding factored into the Guardians offense snatching 8 passes for 102 yards. He spent 2021 with the Montreal Alouettes and now finds himself back stateside.
Tyler Palka (QB/WR) – DC Defenders
Palka spent his time as a hybrid player for the Defenders. Had the season gone longer there could have been opportunities to see Palka be featured in gadget plays he could throw the football on a double pass/end around/etc. It remains to be seen if the Gamblers will use him in the same manner.
Birmingham Stallions
Marquez Tucker (OG) – Houston Roughnecks
Tucker came to the XFL after being waived by the Chicago Bears in 2019. He appeared in just one game for the Roughnecks.
The USFL is set to kickoff April 16 from Birmingham, Alabama.
Be sure to join
Alt Football Reddit
and connect with other XFL and alt football fans.
---

XFL Quarterback Team Selections, Sloter From USFL, Dungey, Perez & Silvers Return
Latest Podcast
Dexter Williams Chooses USFL Over XFL, Resigns With Philadelphia Stars, XFL Draftees Get Signed...