When the XFL shut down in 2020 due to a global pandemic, one of the top quarterbacks in the league and undoubtedly the unofficial MVP of the league, everyone wondered what NFL team would sign PJ Walker; it only took 13 days after the league suspended operations and let players out of their contracts to sign with NFL teams.
The Carolina Panthers announced they signed PJ Walker to a two-year contract, which was no surprise based on the relationship that PJ Walker and head coach Matt Rhule had during PJ's time at Temple, where PJ would lead them for two seasons finishing 10 and 4, tying the record at Temple for the most wins in history and also becoming Temple's all-time pass leader throwing for 10,668 yards and 74 touchdowns.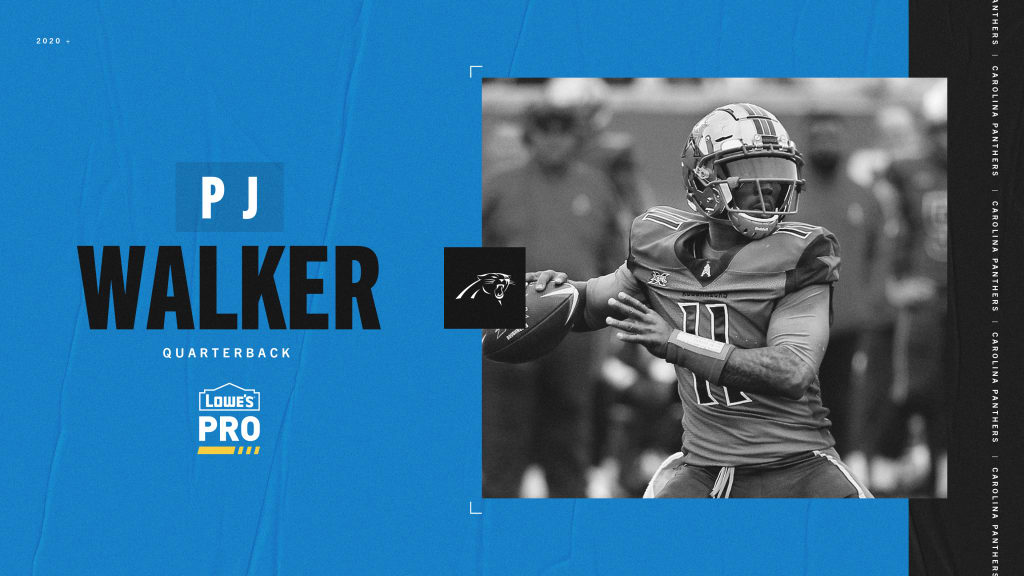 The Panthers organization jumped on the opportunity to bring in PJ Walker after his stunning XFL Season, where he started all five games and led the Houston Roughnecks to an undefeated 5-0; PJ Walker would go on to play in 8 games total and start two of them, winning both NFL games he started continuing his undefeated streak as a starter between the XFL and NFL.
In those 8 games, PJ Walker would throw 57 completions out of 100 attempts, 568 yards, 1 touchdown, and 6 interceptions. PJ Walker is currently part of the 4 Quarterbacks signed with the Carolina Panthers after today's trade for Baker Mayfield.
With Baker Mayfield, Sam Darnold, rookie Matt Correl, Davis Sheek, and of course, PJ. Unless the relationship with Matt Rhule is so strong that PJ stays on their practice squad, I wouldn't be surprised if he is cut after training camp despite the one-year extension being signed back in January, and gets an invite to the XFL.
Recently the XFL mentioned that the league would be a quarterback league again; this instantly makes me believe the XFL will be keeping an eye on PJ and possibly try to get him signed if he doesn't sign with another team. While I feel PJ deserves more of a chance not sitting behind Baker Mayfield and Sam Darnold, I don't see any scenario where he would be signed and brought into an NFL team as their starter, let alone as a backup at this point.
We saw something similar happen with former St. Louis Battlehawks quarterback Jordan Ta'amu, who made his rounds around the NFL after the XFL shut down. Going from the Cheifs, Lions, Washington Football Team, and Panthers. Then, he would ultimately be cut and end up drafted in the USFL for the Tampa Bay Bandits and starting all 10 games throwing for 2,014 yards with 172 completions out of 302 attempts with 14 touchdowns. It could easily be the same scenario for PJ in the same fashion.
PJ Walker started all five games in Houston in 2020 and went 5-0, making 119 completions out of 184 attempts while passing for 1,338 yards with 15 touchdowns and only 4 Interceptions with one of the best head coaches out there, June Jones. He would also rush for 99 yards on 24 attempts with 1 touchdown.
He fit in perfectly in Houston, and if the XFL in 2023 does the same setup they did in 2020 where they assigned the quarterbacks to each team, my very early prediction is that we see PJ Walker end up in Seattle this time around with Jim Haslett and his former head coach June Jones from Houston who is Haslett's offensive coordinator in Seattle from the rumored with the location of the coaching staff. I am not sure how Houston fans would feel about this, but it would make things interesting across the league.
Do you want to see MVPJ back in the XFL for the 2023 season? Time will only tell how this plays out in Carolina, but I assume they will not keep all five quarterbacks on their roster heading into the 2022-2023 season.
Continue to follow XFL News Hub for all upcoming XFL news as we get closer and closer to the 2023 kick-off!
---
📢
Attention XFL News Hub community!
We've got a quick
30-second survey
and we need your thoughts. Your feedback will help us to bring you the XFL content you love even better. Just click the link in the description below to get started. Thanks for being a part of our team!
---
Unleash the Action: Sign up for XFL Insider and Fuel Your Passion for Football!
---
XFL 2023 Season Attendance Recap: The Ups and Downs
Latest Podcast
Join us on 'XFL Week In Review' as we cover the Vegas Vipers leaving...