The Spring League has announced most of the rosters for each team. Although nobody knows which teams will compete for the championship, the Generals have a lot of professional experience and notable names. 
Head Coach- Bart Andrus: 
Andrus has been a journeyman in the coaching world dating back to 1984 when he was a graduate assistant at BYU. Andrus has been the Head Coach in both NFL Europe and the CFL. He most recently was the Head Coach of the XFL's Team 9. 
Quarterbacks: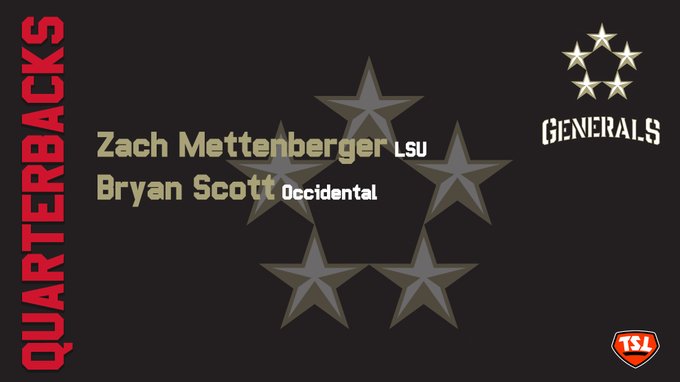 Zach Mettenberg is arguably the most known player on the Generals. Mettenberg played college football at LSU and had a 32-7 record including an SEC Championship. Mettenberg then played in the NFL and AAF with the Tennesse Titans and Memphis Express, respectively. 
Bryan Scott: Played at Occidental from 2013-2016. At Occidental, he threw for 9073 yards, had 90 total touchdowns, and a completion percentage of 63.3%. 
Running Backs: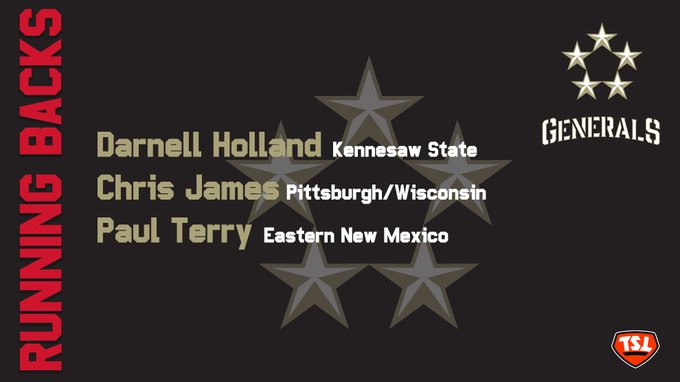 Darnell Holland college stats: played at Kennesaw State where he has 3,307 total yards, 35 catches, and 29 total TD's. He also had stints with the New Orleans Saints and Dallas Renegades. 
Chris James: 1,148 total yards at Wisconsin and Pittsburg to go with 5 touchdowns
Paul Terry: Had 3525 rushing yards with 32 touchdowns at Eastern New Mexico 
Wide Receivers: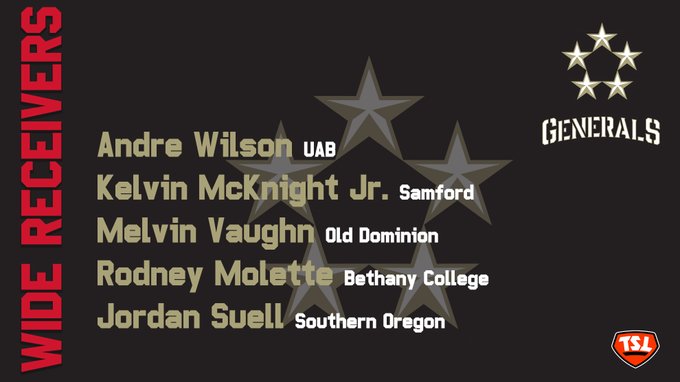 Andre Wilson: Had 135 receptions for 2,059 yards and 24 touchdowns in 4 seasons at UAB. Wilson also spent time with the Detriot Lions.
Kelvin KcKnight: 313 receptions for 4,144 yards and 32 touchdowns at Samford. He then went to play for the Denver Broncos and the Dallas Renegades of the XFL. 
Melvin Vaughn: 902 yards and 8 touchdowns on 85 receptions at Old Dominion 
Rodney Molette: Played at Bethany College where he had 2,733 yards and 29 touchdowns 
Jordan Suell: 2,184 yards on 112 receptions for 27 touchdowns at Southern Oregon
Tight End: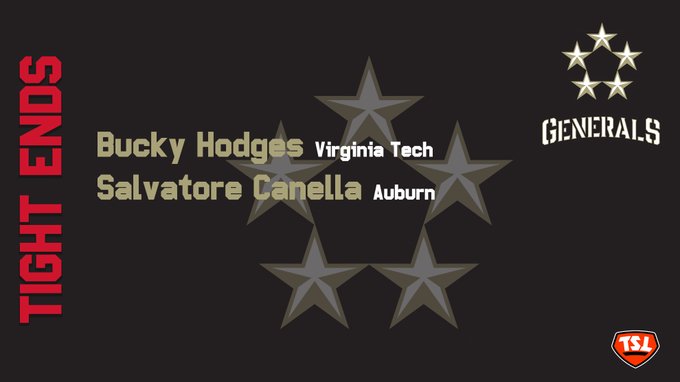 Bucky Hodges: 6'6'' TE from Virginia Tech who had 133 receptions for 1,747 yards and 20 touchdowns. Hodges was also on multiple All ACC Teams (2nd and 3rd) and had multiple stints in the NFL. 
Salvatore Canella: 54 receptions for 778 yards and 12 touchdowns at Auburn. Canella received SEC Academic Honor Roll.
Offensive Line: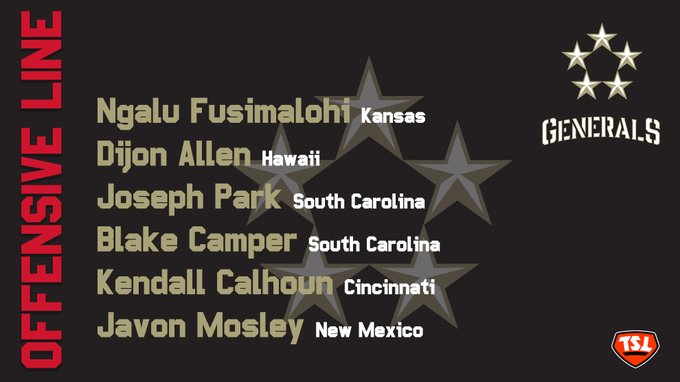 Dejon Allen: 49 starts at Hawaii where made multiple All-Mountain West teams. He also played for the Bears and Packers 
Blake Camper: 10 starts at Right Tackle for South Carolina 
Javon Mosley:  Started at Kilgore Junior College and then transferred to New Mexico State 
Ngalu Fusimalohi: Had 21 starts while at Kansas where he was an  All-Big 12 Honorable Mention and KU Offensive Lineman of the Year
DJ Park: Started 4 games at South Carolina where he played both Right Guard and Right Tackle
Kendall Calhoun: Started 10 games for Cincinnati from 2014-17. Calhoun also played with the Falcons (NFL), Redskins (NFL, Blue Bombers (CFL), and Legends (AAF). 
Defensive Line: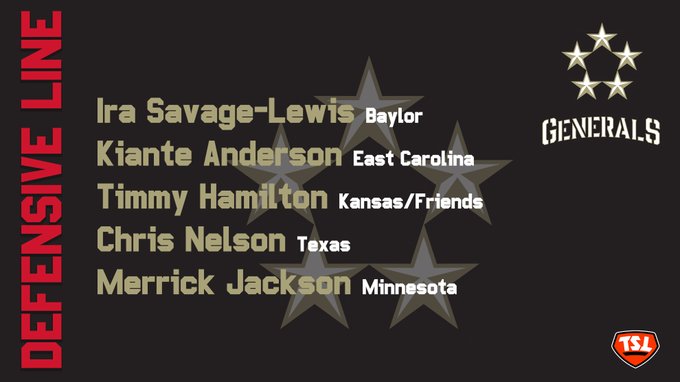 Ira Savage-Lewis: Played at Baylor where he had 99 tackles, 22.5 tackles for loss, 11 sacks. Lewis also played with the Houston Texans.
Chris Nelson: Was an Academic All-Big 12 player at Texas where he had 109 tackles, 15.5 tackles for loss and 3.5 sacks. Nelson also spent time with the Pittsburgh Steelers. 
Merrick Jackson: 125 tackles, 35.5 tackles for loss, and 16 sacks at Minnesota where he was NJCAA All American First Team. 
Kiante Anderson: Had 99 tackles, 18.5 tackles for lose and 8 sacks at East Carolina. He then was on the Carolina Panthers. 
Timmy Hamilton: Had 39 tackles with 4 sacks at Kansas. 
Linebackers: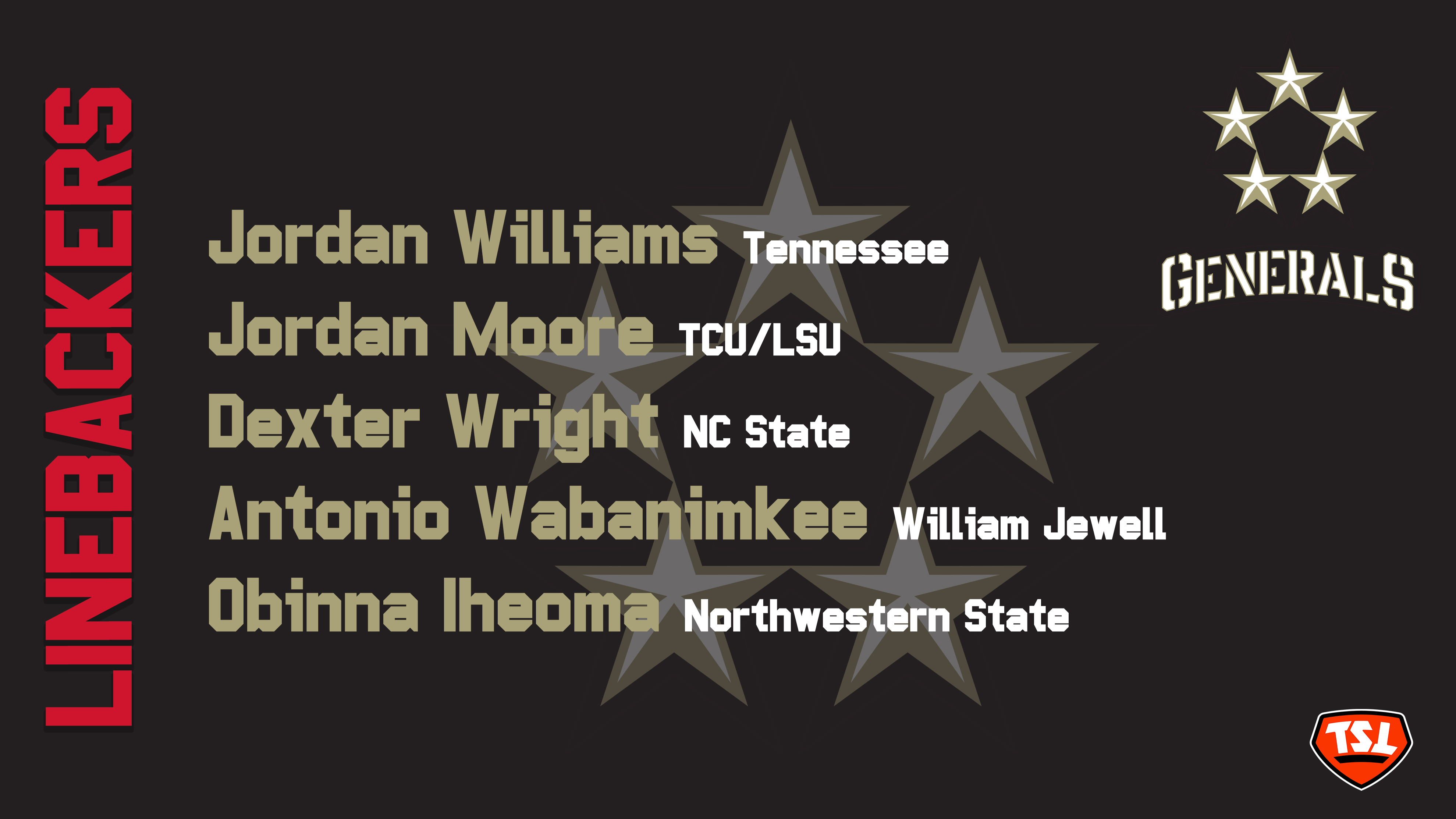 Jordan Williams: 6'5" from Tennessee where he had 65 tackles, 10.5 tackles for loss, and 6.5 sacks. He then went to play for the Jets, Dolphins, Giants, and Titans. 
Jordan Moore: Amazing athlete as he played WR/RB at TCU and then transferred to LSU where he was on the track and field team. Moore did not play football at LSU but at TCU he had 52 tackles. Moore went on to play for the Falcons and Broncos. 
Dexter Wright: Played at NC State where he 135 tackles and 9 tackles for loss. He also played for the Houston Texans. 
Antonio Wabanimkee: Played at William Jewel which is in the GLVC where he had 169 tackles, 26 tackles for loss, and 6 sacks. He also made All-GLVC Second Team. 
Obinna Iheoma: Had 149 tackles, 31 tackles for loss, and 30 sacks at Northwestern State where he was an All-Southland Honorable Mention. 
Cornerbacks: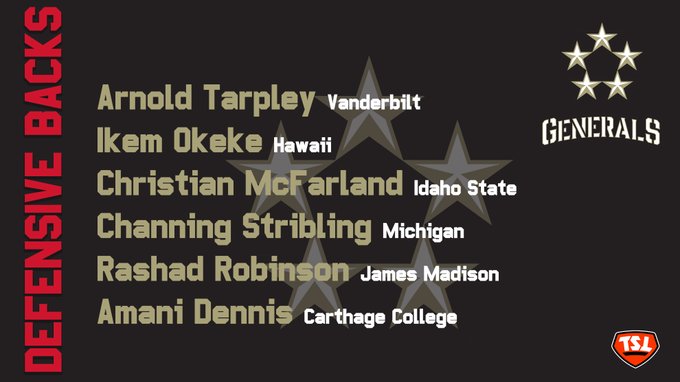 Channing Stribling: Had 22 pass deflections and 6 interceptions at Michigan before he went to play in the NFL. He has also spent time with the CFL, AAF, and XFL. 
Rashad Robinson: Had 133 tackles, 39 pass deflections and 13 interceptions while at James Madison Univerity. He won the Hess-Green Award. 
Safety: 
Arnold Tarpley: Played at Vanderbilt where he had 123 tackles, 10 tackles for loss, and 8 pass deflections
Ikem Okeke: Had 158 tackles, 13 pass deflections, and 3 interceptions at the University of Hawaii.  
Christian McFarland: Played at Sacramento City College and then transferred to Idaho State. McFarland has had 226 tackles, 15 pass deflections, and  4 interceptions. 
Amani Dennis: Was an All-College Conference of Illinois and Wisconsin First Team at Carthage College where he had 100 tackles, 33 pass deflections, and 11 interceptions. 
Kicker/Punter: 
Marc Orozoo: Attended Grambling State where he had a 77.1 FG % with a long of 52 yards. 
---
📢
Attention XFL News Hub community!
We've got a quick
30-second survey
and we need your thoughts. Your feedback will help us to bring you the XFL content you love even better. Just click the link in the description below to get started. Thanks for being a part of our team!
---
Unleash the Action: Sign up for XFL Insider and Fuel Your Passion for Football!
---
XFL 2023 Season Attendance Recap: The Ups and Downs
Latest Podcast
Join us on 'XFL Week In Review' as we cover the Vegas Vipers leaving...