The XFL formally announced the XFL Las Vegas coaching staff today; despite some coaching positions still to be filled later, Rod Woodson is on the move to make sure that he brings the best coaching staff to the table heading into the 2023 season, and so far what he has put together along with the XFL shows how committed he is to bring some good crisp football to Las Vegas.
Linebackers Coach – Dr. Jen Welter
     History is already being made by the XFL and Rod Woodson with the addition of the first known female coach in the NFL when she was the Arizona Cardinals assistant coaching intern for training camp and the preseason; her internship would expire after the team's third preseason game on August 30th, 2015. Welter would then be part of the Alliance of American Football, where she would be the defensive specialist under head coach Brad Childress for the Atlanta Legends.
Dr. Jen Welter graduated from Boston College with a master's degree in Sport Psychology and Ph.D. in psychology from Capella University. Before coaching, Welter also played several women's professional and semi-professional football teams, including the Dallas Diamonds and Dallas Dragons, along with becoming a gold medal-winning member of Team USA at the IFAF Woman's World Championship for American Football. Jen will bring her prior football knowledge to the team and the psychology of sports into the locker room and on the field to help players.
Defensive Coordinator – Cris Dishman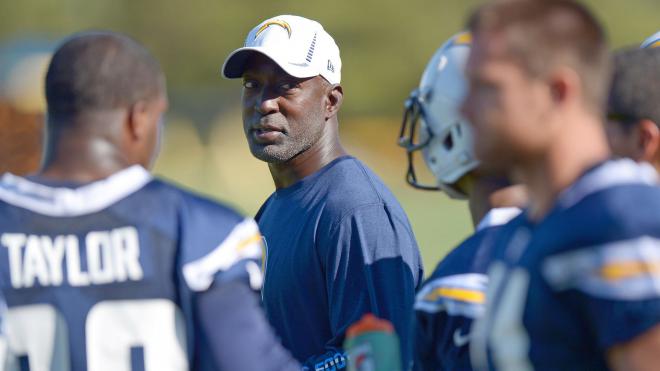 Cris Dishman joins Rod Woodson's coaching staff in Las Vegas as a former cornerback who played for the Houston Oilers, Kansas City Chiefs, Minnesota Vikings, and the Washington Redskins during a 13-year career in the NFL going back from 1988 to 2000. Dishman would then coach in the NFL as an assistant defensive backs coach for the San Diego Chargers from 2008 to 2012 and then head north to coach the Montreal Alouettes in 2018.
Dishman is no stranger to spring football as he was in the XFL in 2020 as a defensive backs coach for the New York Guardians and then just as of recently was the New Jersey Generals Defensive coordinator in the USFL this past season. Cris Dishman and a few other coaches have made their way from the USFL this past season over the XFL for the 2023 season. Dishman will bring a lot of coaching history from the pro level and some playoff history with the New Jersey Generals.
Defensive Backs – Darren Perry
     Darren Perry is another piece of the Las Vegas puzzle that fits in very well for the job; Perry played with four NFL teams during his career between 1992 and 2000; He would play most of his career with the Pittsburgh Steelers, where he would be the first rookie in the NFL to pick six passes since 1955 to lead the team in interceptions. During his tenure with the Steelers, Perry was paired up with Rod Woodson in the secondary, which created one of the most effective secondaries in the NFL. His 32 career interceptions from 1992-1998 are tied for seventh in Pittsburgh history.
After a storybook career came to a halt due to an injury that caused Perry to retire, he would take his defensive talents to the coaching side and would be hired in 2002 by the Cincinnati Bengals as their safeties coach; a year later, he would return to the Pittsburgh Steelers and coach from 2003 to 2006 as Assistant (2003) and the actual defensive backs coach (2004-2006).  Between 2007-2017 he would go from Oakland Raiders defensive backs coach to Green Bay Packers Safeties coach. With some history with Rod Woodson as a player on the Pittsburgh Steelers, it will be interesting to see what this duo can do as coaches in the 3.0 era of the XFL.
Offensive Coordinator Missing from Announcement
As a lot are wondering why there is no offensive coordinator announced under the XFL Las Vegas coaching staff could be for a few reasons such as contracts and out of respect, it was reported a few times in the past, but our own XFL Insider Mike Mitchell that unless there is some change, the current Alabama A&M offensive coordinator Duane Taylor is expected to become the offensive coordinator for the Las Vegas team once the college season wraps up.
The other question I have seen floating around is that there are many distinct positions with each group that some may have and some may not have. Such as XFL Orlando having a Quarterbacks coach where Las Vegas does not or XFL Houston having a Running backs coach where Vegas does not. This could be just more puzzle pieces that need to be filled or have been waiting on contracts to expire or the seasons to end; the other possibility is that that position may be within another, such as offensive coordinator.
Full Coaching Staff for XFL Las Vegas
XFL Las Vegas
Head Coach: Rod Woodson
Director of Team Operations: Temeko Richardson
Director of Player Personnel: Joey Clinkscales
Wide Receivers: Ray Sherman
Tight Ends: Charlie Eger
Defensive Coordinator: Cris Dishman
Defensive Backs: Darren Perry
Linebackers: Dr. Jen Welter
Offensive Line: Bob Wylie
Quality Control: Franco Arellanos
Athletic Trainer: Justin Bland
Equipment Manager: Bob Wick
Video Manager: Brendan Taylor
Be sure to continue following XFLNewsHub.com for all your XFL Las Vegas news as we get closer to the 2023 season.
---
Unleash the Action: Sign up for XFL Insider and Fuel Your Passion for Football!
---
USFL and XFL Merger: A Deep Dive into the Historic Collaboration
Latest Podcast
In this week's "XFL Week In Review," we explore the seismic shifts in the...