Now that the Battlehawks have finalized, for now, their roster, the season seems even more real. We're only two weeks out from the BattleHawks kicking off their inaugural XFL campaign against the Dallas Renegades, Sunday, February 9, 4:00 pm CST, at Globe Life Park.
After a grueling training camp, a high octane scrimmage, and a ton of player movement, St. Louis finalized their 52 man roster, but here are five players to keep an eye on as we move into the season.
Kenny Robinson (Safety)
Kenny Robinson will be a name you will hear early and often when the BattleHawks defense is on the field. The former West Virginia Mountaineer is on a different path from many of his teammates and league-mates. Unlike many XFL players, Robinson is also preparing for the 2020 NFL Draft, he was recently declared as eligible for the draft pool and has the potential to be a high draft pick at the NFL Draft in Las Vegas, April 23. 
Robinson is a safety who has a nose for the ball, he recorded 77 tackles as a sophomore at West Virginia, he also broke up four passes and had four interceptions as well. Robinson has had quite a bit of buzz about him, but no definitive projections have been available as many teams and reporters are presently scouting the Senior Bowl. Look for more underclassmen work to come around in the weeks ahead.
Robinson is the biggest name on the BattleHawks defense and could provide a safety blanket over the top in a pass-heavy league.

Jordan Ta'amu/Taylor Heinicke/Nick Fitzgerald (Quarterback)
Although the BattleHawks gained some clarification with the release of Brogan Roback, there is still a certain amount of uncertainty moving forward. Heinicke and Ta'amu both look to be the leaders for the job, but neither has, as of yet, distances themselves from the other. Both are accurate passers who can make the most of the opportunities in front of them. St. Louis has a talented group of pass-catchers and running backs who will propel any quarterback to success.
Ta'amu is the young, rising collegiate star looking to prove he was not a one-year-wonder after throwing for nearly 4000 yards in his senior season at Ole Miss then failing to catch on in the NFL. Throughout camp and scrimmages, Ta'amu displayed mobility and accuracy that could make him a star with a bevy of weapons like Demornay Pierson-El, Keith Mumphrey, and L'Damian Washington.
Come for the TD grab … stay for the slam dunk! ?@colehunt12 out here making plays! ?#ForTheLoveOfFootball x #ClearedToEngage pic.twitter.com/z1kTC1DUUv

— St. Louis BattleHawks (@XFLBattleHawks) January 20, 2020
Meanwhile, Taylor Heinicke is a seasoned veteran in XFL terms, having spent several years with the Carolina Panthers and even seeing regular-season game action. Heinicke could provide the steady hand that coach Jonathan Hayes is looking for. A steady veteran hand could be the key to guiding this potentially high-flying BattleHawks offense.
This is a connection we can get behind. ?@Taylor_Heinicke ➡️ @DontPunt_15 is real smooth. ?#ForTheLoveOfFootball x #ClearedToEngage pic.twitter.com/O6wz54rDj0

— St. Louis BattleHawks (@XFLBattleHawks) January 26, 2020
That brings us to the wildcard, Nick Fitzgerald joined St. Louis later than both Ta'amu and Heinicke, but the coaching staff thought he brought enough to the table to release Brogan Roback, a QB with NFL experience, at the end of training camp. Fitzgerald is a big-armed, bruising-runner in the mold of Josh Allen and Cam Newton. He may have to catch up to the other two QBs, but if he gets hold of the job, his athleticism may spark St. Louis and open up the offense in a way the other two cannot. It may be cheating, but the St. Louis quarterback is a position that will determine just how high this potent offense can fly.

Keith Mumphrey (Wide Receiver)
Mumphrey is a big-play threat every time he steps on the field. The former Texans fifth-round was released by the Texans in 2016 amid an investigation launched by Michigan State, where he was a graduate student at the time, the charges were eventually withdrawn and Michigan State settled the long-running issue with Mumphrey in 2019. Mumphrey is attempting to put the past behind him and hopeful the XFL can land him back in the NFL. In 27 games for the Texans, he recorded 24 receptions for 198 yards, while also providing a spark on kick and punt returns. He's a receiver who knows where the sticks are and will get there more often than not (7 of his 24 catches were for first downs).
In college, Mumphrey was a dynamic, big-play receiver for Michigan State. He averaged 15.3 yards per catch throughout his college career, while also hauling in seven touchdowns. This BattleHawks offense has the potential to be a top-three offense in the XFL, and Mumphrey could play a big part in unlocking the offense. With Pierson-El and Washington both providing AAF experience, Mumphrey will bring NFL caliber talent to the table for whoever ends up quarterbacking the BattleHawks.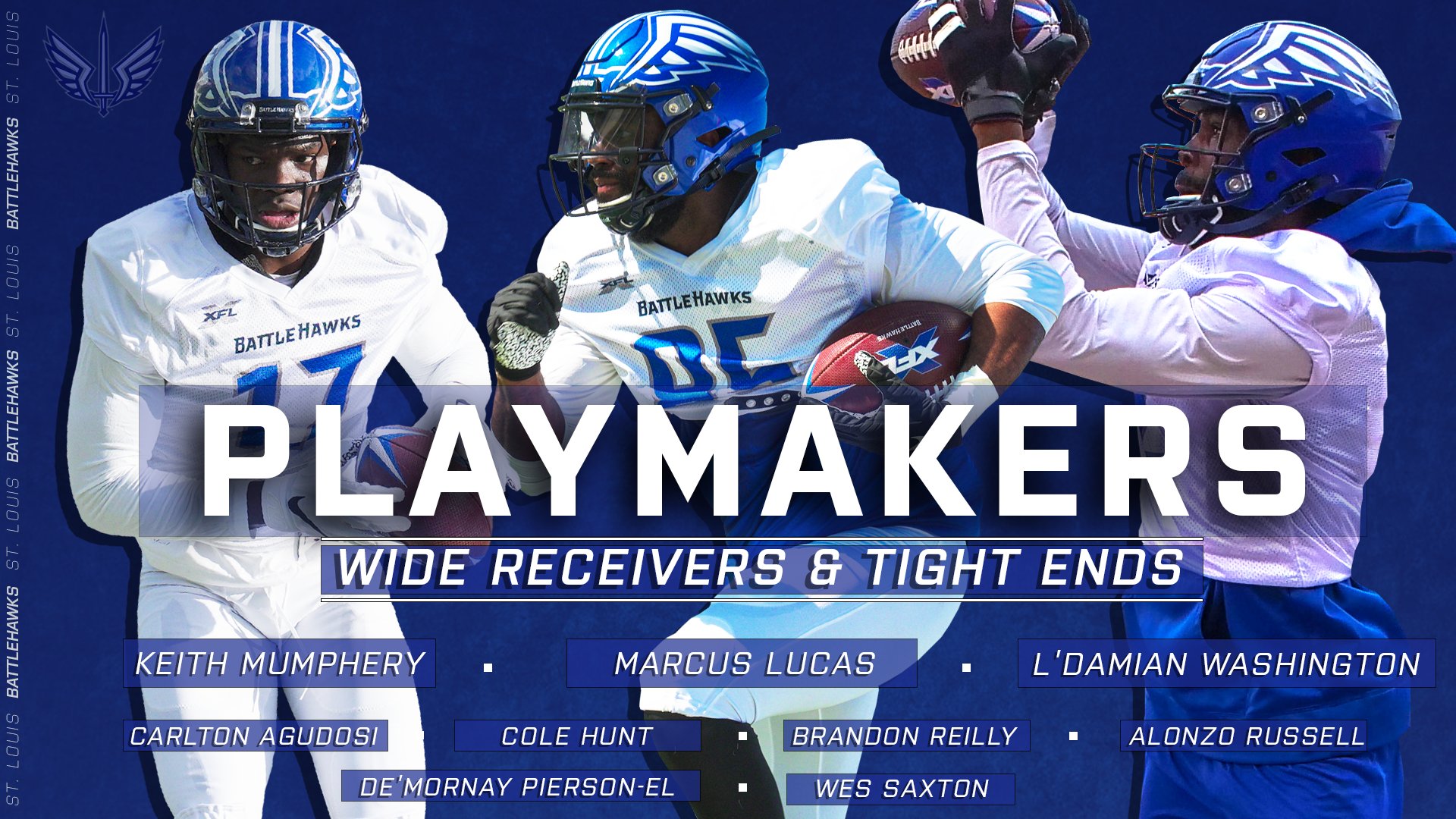 In a dynamic, pass-happy offense like St. Louis looks to be, receivers with talent will feast. Mumphrey may also see opportunities as a returner and, with the wide-open XFL kickoff rules in effect, he has the ability to make an impact in the return game as well. Now is Mumphrey's opportunity to prove he has what it takes to shine on a big stage. Look for him to do just that.

Robert Nelson (Cornerback)
Robert Nelson is an NFL caliber cornerback, and in a pass-happy league, that means he will be tested constantly. After playing in 20 NFL games over three years, Nelson was a solid starter with the Arizona Hotshots of the AAF last year. In his second go-round in Spring Football, Nelson will look to show his NFL-level talent early and often.
One thing we saw throughout the scrimmages was that every team wants to throw early and throw often. The BattleHawks prepared for this by retaining eleven defensive backs, Nelson and Robinson will anchor a talented secondary, along with talented safety Harold Jones-Quartey and a trio of potential NFL caliber corners in Trey Caldwell, D'Montre Wade, and Darius Hillary.
This secondary will pose a threat to even the most high-octane passing offense, and at the core of its ability to shut down the opponents, air game will be Nelson. As the most experienced, and perhaps most talented member of the secondary, Nelson will be tasked to set the tone for the defense and mentor the younger defensive backs. Coach Hayes traded to get Nelson for a reason, look for him to provide some shutdown defense in the secondary.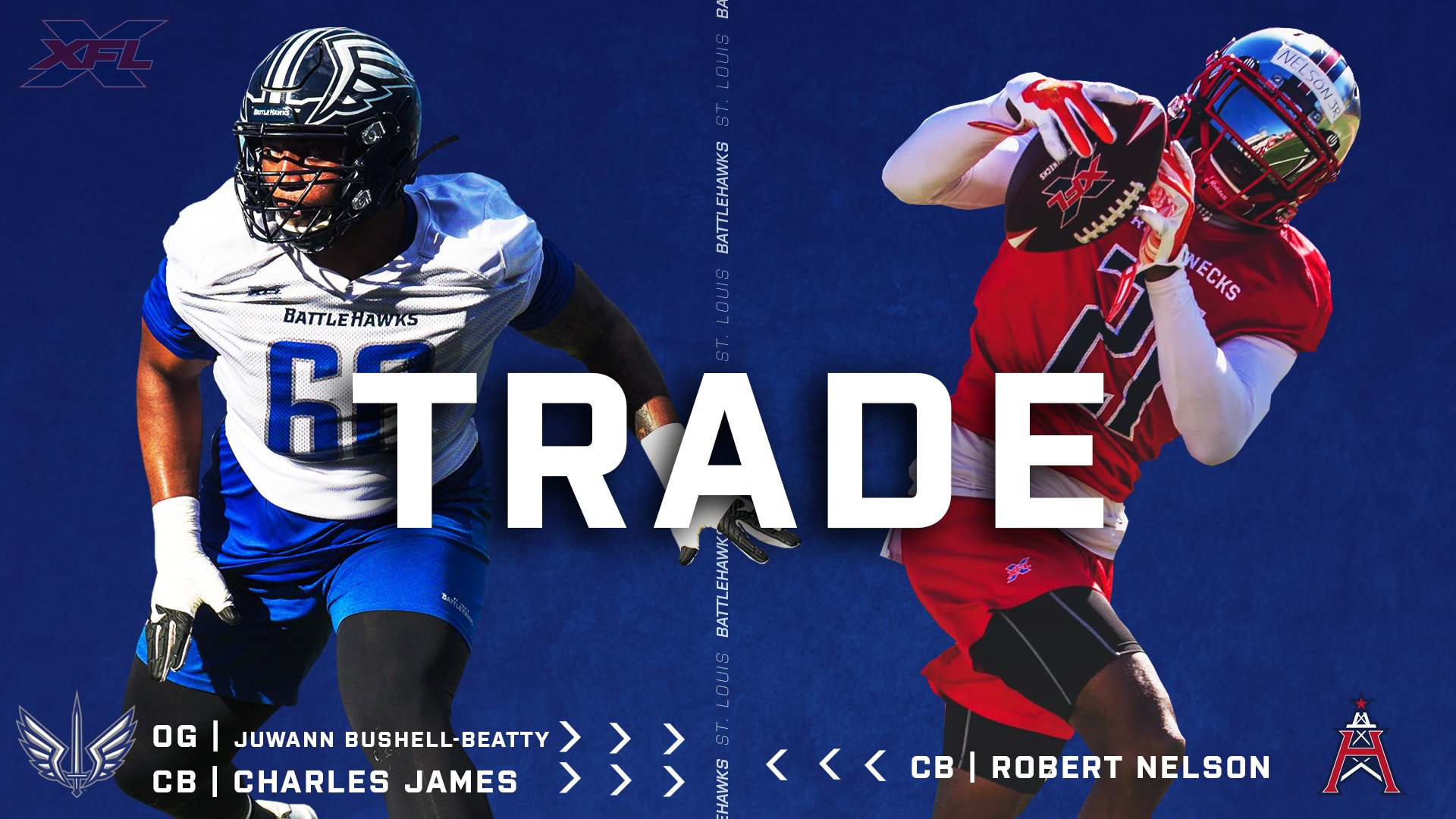 Matt Jones/Christine Michael (Running Back)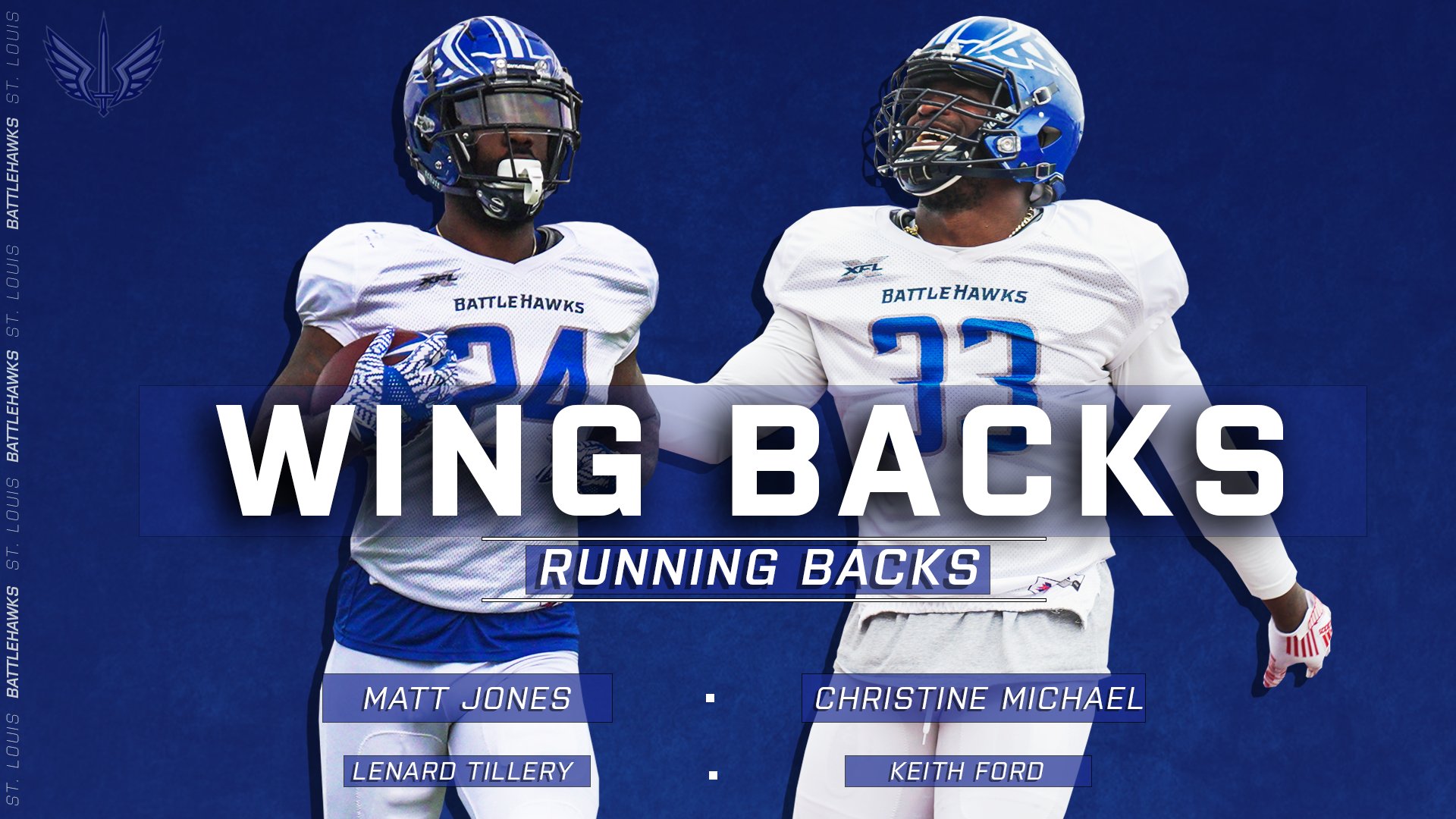 Although the BattleHawks have the potential to be a prolific passing offense, when Offensive Coordinator Chuck Long needs to run or wants to check it down he will have a pair of NFL caliber running backs to do so with. Matt Jones and Christine Michael are both talented running backs who are capable of making plays with the ball in their hands.
Jones demonstrated playmaking abilities over his two seasons with Washington with 950 yards rushing and 377 receiving and scored seven touchdowns over 20 games there. Jones has a knack for making plays and averaged 16.0 yards per catch in 2015 on 19 receptions. Look for him to make plays in the rushing and passing game.
Will this be @mattjonesrb's go to TD celebration this season? ?#ForTheLoveOfFootball x #ClearedToEngage pic.twitter.com/O4tHvqvLLS

— St. Louis BattleHawks (@XFLBattleHawks) January 27, 2020
Christine Michael is the more experienced of the BattleHawks two running backs, but he is every bit the playmaker Jones is. Michael played in 38 NFL games, nine of which he started. In 2016, when he started seven games for Seattle, he had a career year. 583 rushing yards, 7 rushing TDs, while proving to be a capable receiver with 22 catches for 107 yards and 1 touchdown.
Both backs will provide a welcome safety valve for whoever ends up as the BattleHawks starting quarterback. In addition, if Fitzgerald wins the starting job, look for the running game to take flight, as nothing helps running backs like a running quarterback. Both Michael and Jones proved to be capable NFL players over the course of their careers, look for them to showcase their playmaking abilities in the XFL.
---
📢
Attention XFL News Hub community!
We've got a quick
30-second survey
and we need your thoughts. Your feedback will help us to bring you the XFL content you love even better. Just click the link in the description below to get started. Thanks for being a part of our team!
---
Unleash the Action: Sign up for XFL Insider and Fuel Your Passion for Football!
---
XFL 2023 Season Attendance Recap: The Ups and Downs
Latest Podcast
We talk with XFL Insider Mike Michell on the 3 things we like and...