The conclusion of week 5 marked the midway point in the 2020 XFL regular season. This week I'm starting my lineup building process by taking a big picture look across the XFL to see what trends developed over the first half of the year.
Below you will find the top 50 XFL flex players based on FanDuel scoring. The list includes overall rankings, fantasy points scored each week and average points per game. We will use the data to examine scoring trends and identify who's hot and who is not, which team offenses to target when constructing your lineups and we'll also identify breakout targets.
Who's Hot?
Cam Phillips – WR
It's not breaking news that Cam Phillips has dominated the XFL this season scoring an astounding 9 TDs through the first half of the season. He is currently on pace for 62 receptions, 910 receiving yards, and 18 TDs. Extrapolate those numbers to a typical 16 game season and we are talking 100 receptions, 1,456 receiving yards and 29 TDs. Sure he probably isn't going to score 9 more TDs in the last 5 games of the regular season, but raise your hand if your mid-season projection had him with 9 now. Cam is a monster who needs to be in your lineup every week. Full stop.
Saeed Blacknall – WR – LA Wildcats
Blacknall surfaced last week as a value play in my XFL Week 5 – Sunday WR/TE preview. All he did last week was lead the Wildcats in Week 5 targets with 7 and pick-up 78 yards and a TD. Starting TE Brandon Barnes is done for the season, which opens up 3.6 targets a game in an Wildcat's offense that has averaged 304 passing yards the last 4 weeks. With back-to-back double-digit fantasy outings, 10.7 and 16.9 respectably, look for Blacknall to have continued success in week 6 against the XFL worst pass defense in the league (Seattle Dragons).
Who's Not Hot?
Eli Rogers and Rashad Ross – WRs – DC Defenders
Rogers, Ross and the Defenders started the XFL season kicking ass and taking names. There's a Paul Rudd GIF somewhere right now saying, "Who would've thought? Not me." Me neither Paul. In hindsight, the Seattle Dragons pass defense is way worse than we originally thought. Either way the Defenders top two WRs need to get back on track if either one wants to earn a spot in my future lineups. I will be fading them until we get a clearer understanding of what the Defenders offense will look like after Tyree Jackson has a full week of reps with his high flying receiving corps.
Offenses to Build Around
Last week I had the privilege of joining my fellow XFLNewsHub writer Rod Villagomez's Podcast XFL Fantasy Central, during which we discussed looking at offensive team trends to identify players who have the potential to break out and outperform their projections. Here are a few teams (other than Houston) that have been consistently producing offensively over the last few weeks.
Tampa Bay Vipers
The Vipers might not jump off the screen as the best offense in the league, but they are currently leading the XFL in offensive production, averaging 391.8 yards per game. They lead the league in rushing (165.6) and are fourth in passing yards per game at 226.2, behind pass-happy offenses like Houston, Dallas, and LA. They may only feature one player in the top 10 (Dan Williams), but they boast 5 of the top 18 scorers in the XFL. Last week 4 of the 5 scored double-digit fantasy points. Now correctly identifying which player will break out in the offense each week is become our challenge.
LA Wildcats
Josh Johnson's outstanding performance at QB has been loudly overshadowed by the brilliant performance of leading MVP candidate, PJ Walker. Johnson has been averaging 33.75 pass attempts per game, which has translated into production for the Wildcats WR corps. The Wildcat offense has produced a top 3 WR finish in 4 of the 5 weeks. Whether you are splashing Tre McBride around in your lineups, or are looking for value in Jordan Smallwood or Saeed Blacknall, this is an offense that you want to target, especially in week 6. You can thank me later.
Players with Breakout Potential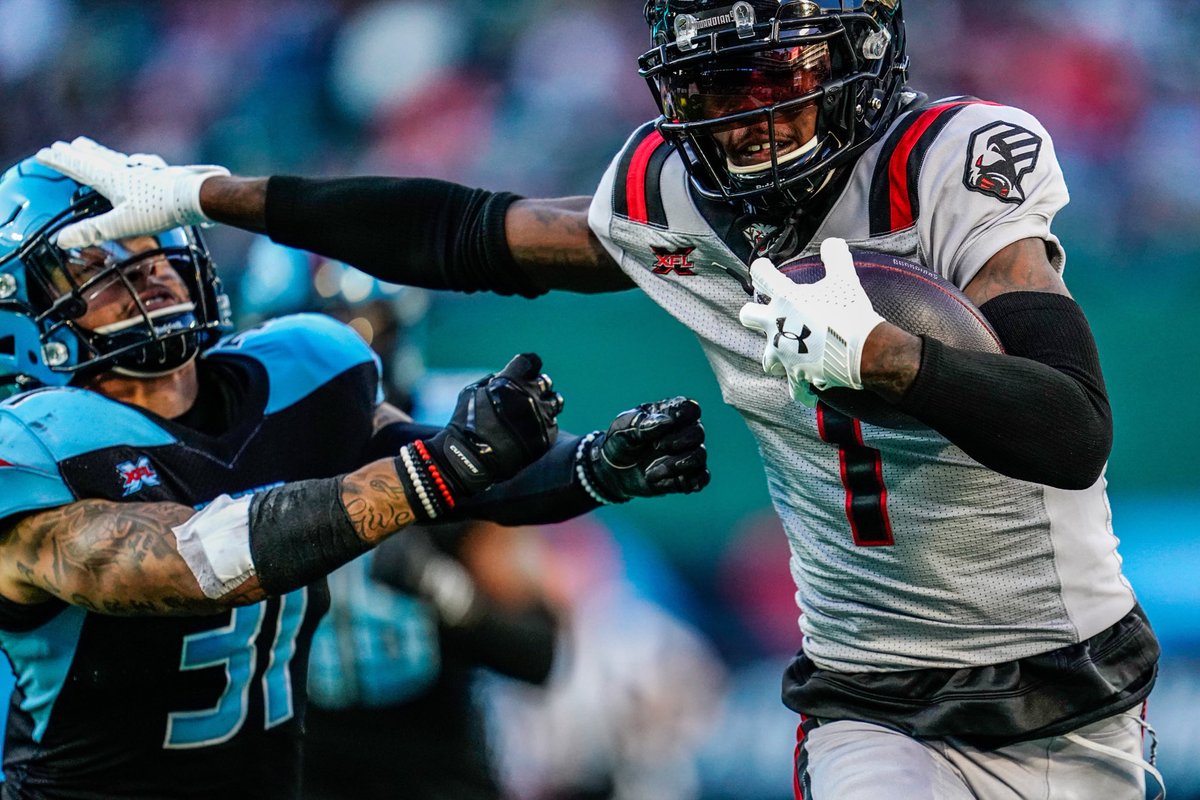 MeKale McKay – WR – NY Guardians
One player who has increased his production over the last few weeks is MeKale McKay. Last week his target share jumped from 16% in week 4 to 23% in week 5. Colby Pearson has played well, but I am predicting that McKay will lead the Guardians in receiving yards and TDs in the second half of the XFL season. He is just getting warmed up folks. Look for him to break out this week against the Houston Roughnecks.
Jhurell Pressley – RB – DC Defenders
If you are looking for a breakout RB for the second half of the XFL season, I really was impressed last week by the effort and numbers that Jhurell Pressley put up, rushing for 107 yards and averaging 7.1 yards per carry. If the Defenders are going to earn one of the top two spots in the East, it will more than likely be on the back of a strong running game. Sign me up for Pressley the rest of the way.
---
Unleash the Action: Sign up for XFL Insider and Fuel Your Passion for Football!
---
USFL and XFL Merger: A Deep Dive into the Historic Collaboration
Latest Podcast
In this week's "XFL Week In Review," we explore the seismic shifts in the...