The Spring League has announced the majority of each team's roster. Today we are going to break down the roster as it stands right now for The Blues. This breakdown is for the players that have been announced so far, but this could still change before the league starts for a variety of reasons.
Head Coach
Ted Cottrell will lead The Blues. Cottrell has a lot of experience from his time at Rutgers as well as his time with the Cardinals, Bills, Jets, Vikings, and the Chargers. He was also with Birmingham in the AAF and most recently, the DC for the Houston Roughnecks.
Quarterbacks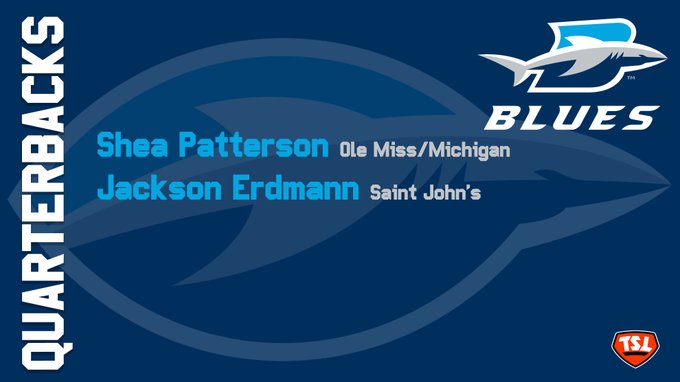 Shea Patterson college stats – 8800 yards, 68 TDs /27 INTs. Patterson played from 2016-2019 between Ole Miss and Michigan and was twice named to the All-Big Ten offensive third team. He was signed as an undrafted free agent with the Kansas City Chiefs in May of 2020, but was waived in July.
Jackson Erdmann college stats – 11639 yards, 139 TDs/28 INTs. Erdmann played at Saint John's and his passing yards and touchdowns are MIAC career records
Running Backs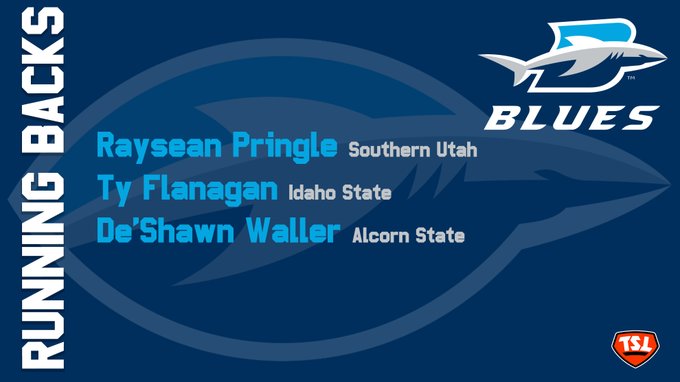 Raysean Pringle college stats – 417 rushing yards – 6 rushing TDs. Pringle played for Southern Utah and has spent time in the NFL on the practice squad for Jacksonville and Green Bay. He has also spent time with the Lions and Raiders and has played on both sides of the ball at running back and corner back.
Ty Flanagan college stats – 1649 rushing yards – 19 rushing TDs. Flanagan played at Idaho State and was an Honorable Mention All-Big Sky player. He also had 41 catches for 375 yards and 1 receiving TD.
De'Shawn Waller college stats – 2671 rushing yards – 22 rushing TDs. Waller played at Alcorn State and was a FCS All-America Third-Team, HBCU All-America, and he had 52 catches for 270 yards and 2 receiving TDs.
Wide Receivers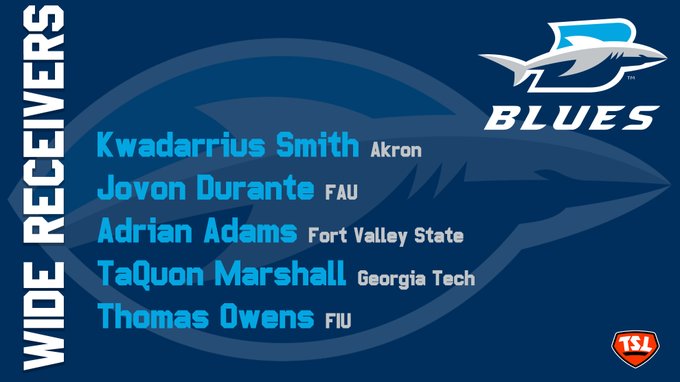 Kwadarrius Smith college stats – 73 catches for 1411 yards and 11 receiving TDs. Kwadarrius played at Akron and was a Red Blair Award winner. He was going to play in the CFL for the Argonauts, but opted out when they cancelled their 2020 season.
Jovon Durante college stats – 125 catches for 1599 yards and 5 receiving TDs. Durante played at Florida Atlantic University and he too was set to play in the CFL for the Ottowa Redblacks.
Adrian Adams college stats – 12 catches for 146 yards. Adams played at both Fort Valley State and North Dakota State. In high schools he was a two year starter at Robinsdale Cooper High School and was selected to play in the Blue-Grey All-America Bowl at AT&T stadium.
TaQuon Marshall college stats – 4 catches for 98 yards and 1 receiving TD. Marshall played at Georgia Tech and did a lot of damage running the ball where he had 2189 yards and 29 rushing TDs. Marshall also spent time as the team's quarterback . He has also participated in mini camps for Baltimore and Atlanta.
Thomas Owens college stats – 158 catches for 2177 yards and 21 receiving TDs. Owens played at Florida International University where he was an All-Conference USA Honorable Mention. Playing in the Indoor Football League for the Massachusetts Pirates he had 59 catches for 577 yards and 10 receiving TDs.
Tight Ends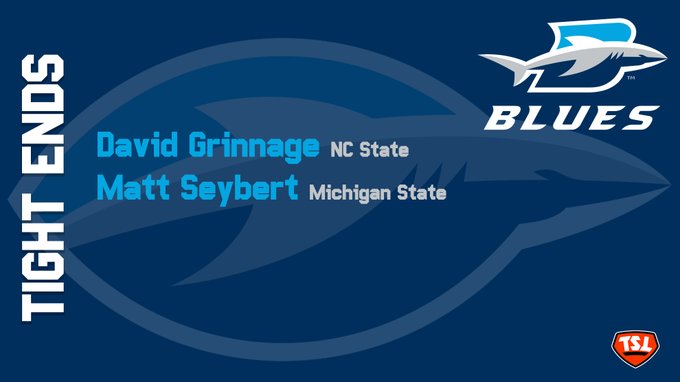 Note: Matt Seybert was originally listed with The Blues, but according to the Twitter update for The Spring League, he is with the Conquerors and Shawn Clark is with The Blues.
David Grinnage college stats – 67 catches for 798 yards and 9 receiving TDs. Grinnage played at NC State and has spent some time on the Jaguars practice squad.
Shawn Clark college info – 27 catches for 368 yards and 4 receiving TDs. Shawn played at Monmouth where he earn Big South First Team honors.
Offensive Line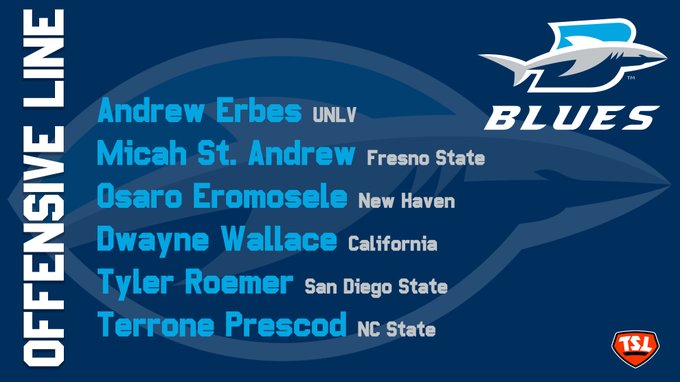 Andrew Erbes college info – Played at a few different schools including UNLV. He also played a year at Mesa Community College and Earned all-league honors. He was also an All-Arizona Community College Athletic Conference choice. Erbes also spent two years in the CFL playing for the Montreal Alouettes. He had also signed on to play in the XFL, but unfortunately it was the week that the league shut down its operations.
Michah St. Andrew college info – 45 starts at Right Guard and Center for Fresno State and was named to the All-Mountain West 2nd Team.
Osaro Eromosele college info – 43 starts at Left Tackle at New Haven University and named to the Northeast-10 All Conference first and second team.
Dwayne Wallace college info – 33 starts at Right Guard and Right Tackle for Kansas University. He also played for the LA Wildcats in the XFL.
Tyler Roemer college info – 23 starts at Left Tackle at San Diego State University where he was USAT Freshman All-American and All Mountain West first and second team.
Terrone Prescod college info – 16 starts at Left Guard and Right Tackle for NC State and was touted as an incredibly powerful linemen.
Defensive Linemen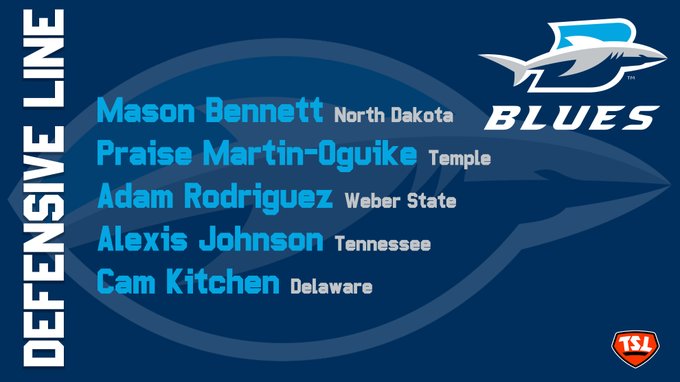 Mason Bennett college info – 128 tackles and 20 sacks as a Defensive End for North Dakota State and was an FCS All-American and was drafted to the CFL before the COVID shutdown.
Praise Martin-Oguike college info – 121 tackles and 19 sacks as a Defensive End for Temple and was a 2 time All-AAC second team selection. He spent time with the Dolphins and the Cardinals, before drafted by the Seattle Dragons for the XFL.
Adam Rodriguez college info – 199 tackles and 22 sacks as a Defensive End for Weber State University and was a 2 time All-American. He dealt with a back injury before the 2019 season, but bounced back to finish his college career strong.
Alexis Johnson college info – 152 tackles and 14.5 sacks as a Defensive Tackle for Tennessee. He spent time playing at Fort Scott Community College and was an Honorable Mention All-KJCCC.
Cam Kitchen college info – 107 tackles and 4.5 sacks as a Defensive Tackle at Deleware and was named All-CAA third team. Even though he missed most of the 2017 season, he made a big impact every other year he could play.
Linebackers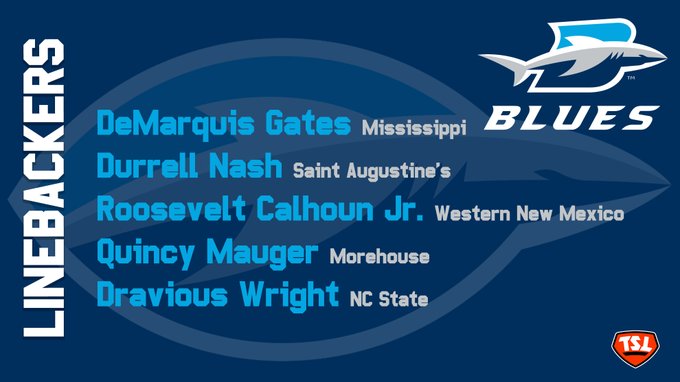 DeMarquis Gates college info – 282 tackles and 6 sacks as a Linebacker for Ole Miss. Gates was signed by the Browns after going undrafted, but was let go. He has also spent time in the AAF with the Memphis Express and had 52 tackles. After the AAF folded he was picked up briefly by the Redskins, but let go shortly thereafter. Finally, he played for the Houston Roughnecks in the XFL and was second on the team in tackles at 32 had 2.0 sacks.
Durrell Nash college info – 200 tackles and 4.5 sacks as a Linebacker for Saint Augustine's University. He was set to attend the NFL's first ever HBCU combine, but it was cancelled due to COVID.
Roosevelt Calhoun Jr. college info – 113 tackles and 13 sacks as a Linebacker for Western New Mexico. In high school he was two-way player and was named All-North Division I Player of the Year by the Reno Gazette-Journal. He was also an All-Region, All-League and All-State as a senior.
Dravious Wright college info – 173 tackles and 3 sacks as a Linebacker for NC State. Wright started at nickle and earned the team's Bo Rein Award for providing a vital contribution in an unsung role.
Secdrick Cooper college info – 178 tackles and 4 sacks as a safety for Louisiana Tech. Cooper was First Team All-Conference USA and First Team All- Louisiana. He has spent some time with the Atlanta Falcons.
Defensive Backs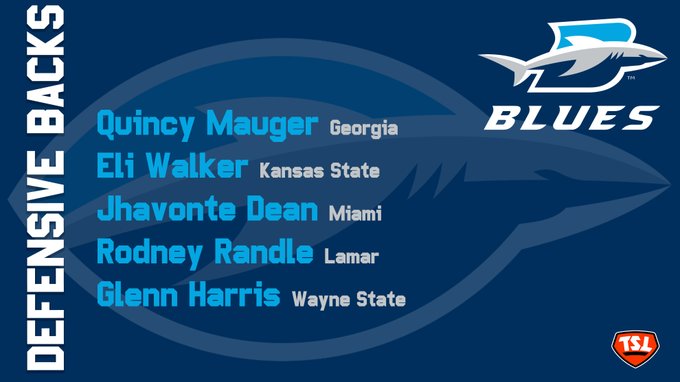 Quincy Mauger college info – 186 tackles and 7 INTs as a Defensive Back for Georgia. Mauger signed as an undrafted free agent with the Falcons in 2017, but was injured and let go later that year. After that, he signed with the Raiders, but was let go shortly thereafter. He was signed by the Atlanta Legends in the AAF before they ceased operations.
Eli Walker college info – 206 tackles and 4 INTs as a Defensive Back for Kansas State. Walker was a hard hitting DB and was signed as an undrafted free agent by the Seahawks.
Jhavonte Dean college info – 71 tackles and 3 INTs as a Defensive Back for Miami. Dean was briefly with the Browns, but ultimately let go. After that, he was drafted by the Seattle Dragons.
Rodney Randle college info – 170 tackles and 5 INTs as a Defensive Back for Lamar University. Randle was a 2 time All-Southland Conference Honorable Mention.
Glenn Harris college info – 84 tackles and 11 INTs as a Defensive Back for Wayne State. Harris was an NSIC First Team selection. He only played one year of high school football before going to Chabot and then Wayne State.
Punter/Kicker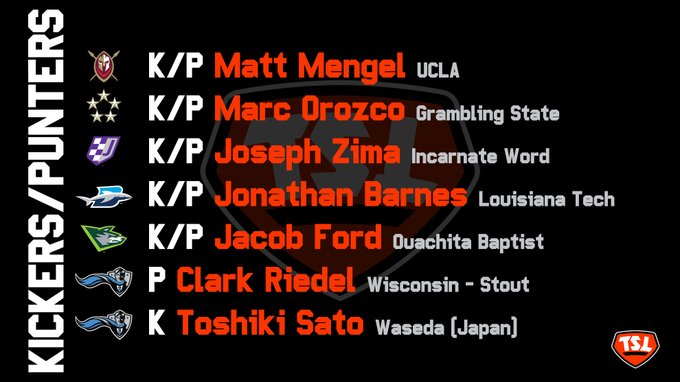 Jonathan Barnes college info – 81/103 field goals made at a 78.6%. Barnes long was 53 yards. He was also 219/226 on extra points.
---
Unleash the Action: Sign up for XFL Insider and Fuel Your Passion for Football!
---
USFL and XFL Merger: A Deep Dive into the Historic Collaboration
Latest Podcast
In this week's action-packed episode of XFL Week In Review, we break down the...