Rolling into week 4 of the XFL 2020 season and WR/TEs have accounted for 32 of the total 53 offensive touchdowns scored. That's a whopping 60% share for all you non-math majors out there. Since FanDuel scoring only rewards .5 points for receptions, touchdowns are where you make your money in cash games and they are must if you have any chance of cashing in GPP tournaments. Below you will find the week 4 FanDuel prices for WR/TEs for the Saturday slate. Since FanDuel runs 2 game slates for both Saturdays and Sundays games, I will be previewing Sunday's WR/TEs in a separate article.
Let's dig into the data and see what trends and values emerge to help identify high value/lower cost targets. We will identify players by examining target share data, player usage trends, a team's offensive run vs. pass ratio and player injuries from all four teams on the slate.
LA Wildcats
The Spruce will not be loose this weekend for the Wildcats, as he has already been OFFICIALLY declared OUT for Saturday's game against the NY Guardians. The Wildcats pass on 60% of the plays they run, with Spruce accounting for a league-high 28% target share. Who steps up in his absence? Here are a few options to consider.
Tre McBride
Last week McBride made his debut for the Wildcats and caught 5 of his 6 targets 109 yards and 2 touchdowns with a team-high 24% target share. He's been appropriately priced up this week in FanDuel to $17, but don't let that scare you off of McBride. He has slate breaking potential with 28% of the team targets vacated. He popped up on the injury report this week, so make sure to monitor his availability come game time. If healthy, McBride is one of my core plays this week in FanDuel cash games and GGP tournaments.
Jordan-Elijah Smallwood
Smallwood has been targetted 14 times and has 12 receptions for 75 yards to show for it. His $15 is a high price to pay for 0.44 points per dollar production. The one factor that is appealing is that his quarterback, Josh Johnson, is currently leading the league in QBR at 114.7 and he has been accurate and willing to throw downfield. If you McBride cannot go he becomes a much more attractive play. I will end up only rostering him in around 10% of my DFS lineup builds.
Levonte Whitfield
Sitting at only $12, Whitfield is more of a dart throw than someone who you can count on in cash games. With his 4.44 speed, he definitely has appeal for GPP tournaments and being the primary kicker returner provides added opportunity to break one. I'm probably going to have around 15-20% exposure in my GPP tournaments.
NY Guardians
The Guardians have been playing terrible football the last two weeks. No surprise that their leading receiver ranks 17th in the league for yards and is out of the top 20 in receptions. I know it sounds like we should avoid this dumpster fire of an offense altogether, but there is value to be had for sure. The Guardians have been facing negative games scripts and are 7 point underdogs at home on Saturday. THEY WILL BE THROWING THE BALL!!
Mekale McKay
McKay leads the team in all receiving categories with 7 receptions on 12 targets for 105 yards and a 22% target share. He's the cheapest starting WR with a price of only $13. His only play of note last game was pancaking a DB on an interception return. But McKay runs a route on 96% of the passing plays so he's definitely worth considering in GPPS and is a sneaky cash gameplay that could put you over the top.
Austin Duke
Duke played well last week and made the most of his 4 catches for 43 and a touchdown. He led the Guardians in target last week with 6, but that was with Marquise Williams under center. If McGloin starts on Saturday, I would not roll the dice on Duke.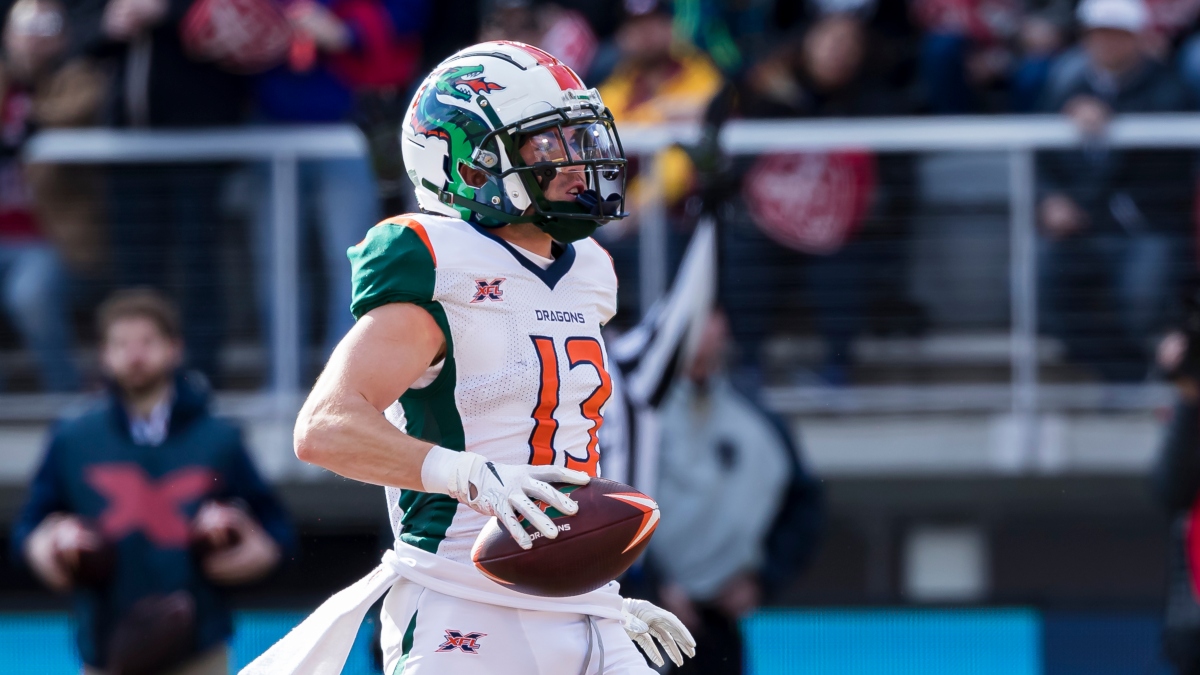 Seattle Dragons
Despite Jims Zorns mad professor vibe (think a blood relative of Doc from back to the future) he currently has QB Brandon Silvers second in the league with 6 touchdowns. Impressive coming from a guy who was once introduced himself as the Washington Redskin's new head coach, Zorn referred to the Redskins' colors as "maroon and black." Talk about clueless.
Keenan Reynolds
Keenan Reynolds is $16. It's practically stealing. Next.
STL BattleHawks
I must admit that I like watching BattleHawks games each week! They play physical and run the ball well. After Ta'amu turned the ball over twice in the BattleHawks 28-24 loss to the Houston Roughnecks, it was not a surprise to see a more conservative game plan against the hapless Guardians last week. I think that the BattleHawks return to the air this weekend. De'Mornay Pierson-El is the most expensive of the STL WRs at $16, but he is 16 of 18 with a 22% target share through 3 games. He will be in my lineups. But he is not a value play.
Alonzo Russell
Russell flashed in the first BattleHawks game, grabbing a touchdown and leading the WRs in targets. Since then he has cooled, only seeing 3 targets last week. Volume is an issue for all BattleHawks receivers as they really believe in establishing the run (60%) and only attempted 18 passes last week. Here's hoping that number trends more toward 50% this week.
For more daily DFS content and news, follow me at @NimblewNumbers on Twitter.
---
Unleash the Action: Sign up for XFL Insider and Fuel Your Passion for Football!
---
USFL and XFL Merger: A Deep Dive into the Historic Collaboration
Latest Podcast
In this week's action-packed episode of XFL Week In Review, we break down the...